Here's the bottom line: if your sign isn't attractive, it won't do its job! Your signs need to be creative and eye-catching to attract target customers. One surefire way to make your sign stand out is to illuminate it. In this blog, we'll talk about the what, why, and how of illuminated signage. Let's dive in.
Why Should You Illuminate Your Signage?
First, you need to figure out why you should illuminate your signage in the first place. Here are some of the most notable reasons to invest in illuminated signs.
VISIBILITY DURING THE NIGHT
Illuminated signs are a year-round necessity for businesses, as most people move about the street once it's dark outside. But, most importantly, these are most necessary during the winter season, as people get off work at a time when it's already too dark outside. To avoid missing out on potential customers driving by your store when it's dark, you should definitely invest in illuminated signs.
BE UNIQUE FROM YOUR COMPETITION
As a star gets their name in lights on a marquee, an illuminated sign gets your business to stand out among all the others. It'll help your sign get noticed from the other signs in the vicinity.
A 24/7 ADVERTISEMENT
Signage is a silent salesperson for your business. It's something you absolutely need all the time to get to your customers. Exterior signs draw attention to your business and differentiate you from the rest. With illuminated signs, your sign will be a salesperson that's available 24 hours a day, even in your absence.
Sign Types that are Commonly Illuminated
Now that you know why you should use illuminated signs,  we'll talk about the most common sign types that are frequently found as illuminated signs.
MONUMENT SIGNS
To be honest, monument signs use illumination as a medal. Why? Because illumination amplifies the purpose of a monument sign.  These signs are used to help your brand stand out amongst its competitors. These signs are placed right by the street and illuminating them ensures their visibility to passersby.
POLE SIGNS
Pole signs are used when a business wants to get noticed from afar or by freeway travelers. An illuminated pole sign has a better chancel of catching your potential customer's attention than a non-illuminated one. Your customers are more than likely to be blown away with your impressive and eye-catching sign.
CHANNEL LETTERS
Channels letters are meant for illumination. These can either be internally or externally illuminated or both. These signs have a great impact when placed above your business, as it will get your customers to come to the right door.
DIMENSIONAL LETTERS
Dimensional letter signs, aka 3D signs, are a great storefront signage option. Once illuminated, these signs have a much bigger impact on the onlookers. Why? Simply because they stand out and come off as unique and elegant.
PROJECTING & BLADE SIGNS
Blade signs are projected out of a building and are visible to the people passing by. By illuminating these signs, you'll get your business noticed even from afar.
Sign Lighting Options
STANDARD LIT THROUGH SIGNAGE
This is when the signage is illuminated internally. The light shines through the face of the sign. This type of lighting is most commonly used in signage.
HALO LIGHTED SIGNAGE
Halo lit signs create a 'halo' around your sign, much like creating a glow. The illumination is projected on the wall behind the sign, which creates an outline around the letters of the sign. This is great for those who want to use the power of light while balancing elegance and class.
NEON SIGNAGE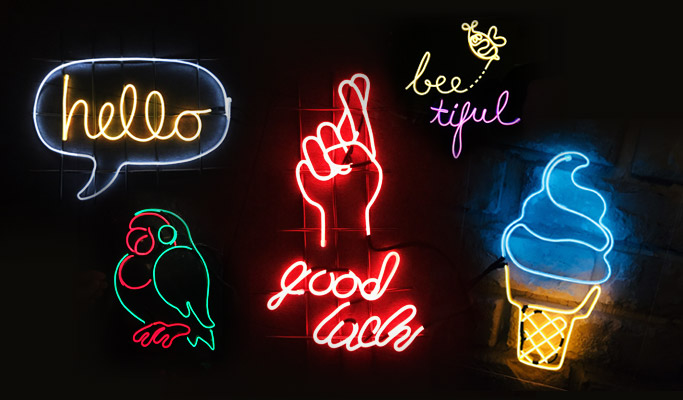 The very first illuminated signs were dependent on neon lights. This is why any sign with neon lights gives off a classical feel to it. Other than the classic look, these give your sign a vibrant and powerful feel. These radiate light from within the sign or can be exposed to show off the outline of the neon from within the sign.
Conclusively, it doesn't matter what sign you're illuminating, why you're illuminating, and how you're illuminating it; in the end, an illuminated sign will get you noticed in the swarm of many conspicuous and dull signs out there. It's all about increasing your customer count. So, to fully utilize the power of signage, put your business's name up in the lights.
You can trust BlinkSigns to put up your business name in lights. Get in touch with us and we'll be more than happy to help you out and ensure that your business name is revered throughout the streets.